SAMM Teknoloji was founded in 2003 by 4 engineer friends. Continuously adding all of its earnings to its capital, as of the beginning of 2022, SAMM Teknoloji owns two production facilities of 13,000 square meters in the Gebze Organized Industrial Zone, an R&D center, offices in Izmir and Ankara, and its subsidiaries in Germany and Turkey, with nearly 600 employees.
SAMM Teknoloji offers products and solutions in the fields of fiber connectivity solutions, fiber optic sensing technologies, and informatics. It is a company specialized in interconnection passive equipment, known as "Connectivity Solutions" in the Telecom Sector.
It started fiber optic cable production in 2018 and became the leading company in the field of "special purpose fiber optic cables". Like many other global clients, SAMM Teknoloji is CERN's, European Center for Nuclear Research headquartered in Switzerland or its French name Conseil Européen pour la Recherche Nucléaire, approved supplier.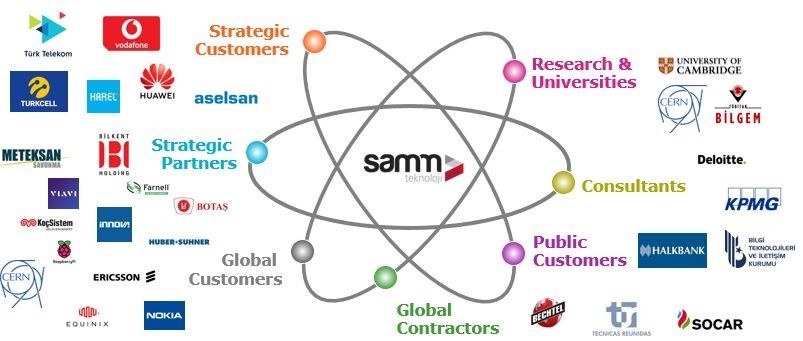 The sales and after-sales calibration/maintenance services of Fiber Optic and communication test and measurement devices (OTDR, etc.), known as JDSU and later changed to Viavi Solutions, are carried by our company under the control of Viavi Solutions and with TSE HYB certificate.
SAMM Teknoloji, which is the Turkey distributor of Raspberry Pi and different development cards and robotic product groups, offers online sales and engineering services of electronic product groups for education and R&D.
SAMM Teknoloji was registered as an R&D Center in 2018 within the scope of Law No. 5746. It has developed projects with many research institutions and universities such as TÜBİTAK BİLGEM, Koç University, Gebze High Technology University, İzmir Institute of Technology, and has commercialized outputs of these projects. In addition, it provided added value to its projects with 8 patents, 3 utility models, 1 product design document, hundreds of product designs, and additional desktop and mobile software.
In addition, METSAM, which was established with the cooperation of Bilkent Holding and Samm Teknoloji, will produce Optical fiber preforms, which is the basic raw material for quartz series optical fiber production, in 2023, following the completion of its facilities in Ankara. Also, R&D studies in photonics and related fields will be carried out in collaboration with METSAM.
Within the scope of the cooperation agreement signed with TÜBİTAK BILGEM in 2019, a fiber optic-based distributed acoustic detection system (FOTAS) was developed and commercialized by the SAMM Teknoloji R&D center. SAMM Technology continues its R&D studies on fiber optic-based distributed temperature and voltage sensing and FBG based single fiber sensors.