FOTAS Presented at the 12th Transport and Communication Council
Transport and Communication Forum is the most comprehensive and important event of Turkey, hosted by The Ministry of Transport and Infrastructure, bringing together pioneers of the transport and communications sectors. It is organized with the participation of national and international guests and firms shining out with their transport and communications activities.
2021 Theme of the 12th Transport and Communication Forum was Logistics-Mobility-Digitalization and applied around the "National Transport and Infrastructure Policy" vision of the Ministry of Transport and Infrastructure of the Republic of Turkey. The Forum was held in cooperation with the leading associations, unions and institutions of the sector. The Forum addressed current situation and dynamics, future plans, foresights, targets and policies of transport and communications sectors in the world and Turkey.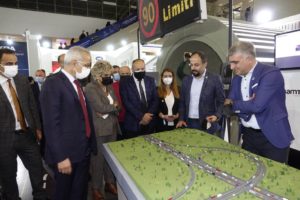 At the forum, the Northern Marmara Highway Enterprise (KMO), made a preliminary presentation of the new smart transportation system project developed in cooperation with SAMM Technology and TUBITAK. The project, which will be a fiber optic and artificial intelligence-based smart transportation system, is planned to be commissioned next year. When the project is implemented, it will ensure highway safety and provide immediate and effective response service in an incident that may occur on the highway. With the use of the fiber optic distributed acoustic detection system (FOTAS) and autonomous drones, it is aimed to instantly detect and identify an incident that occurs on highways, and to make rapid and adequate intervention by the relevant persons/organizations.